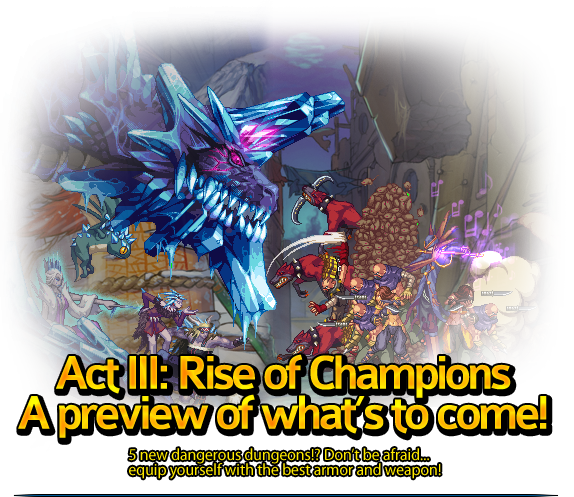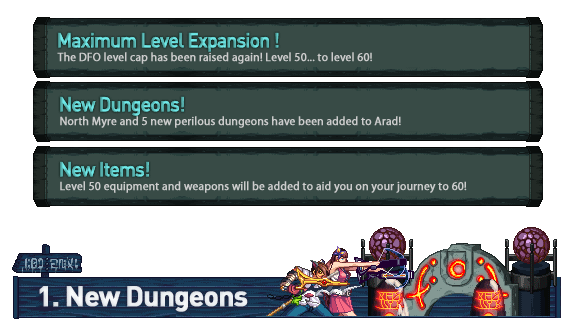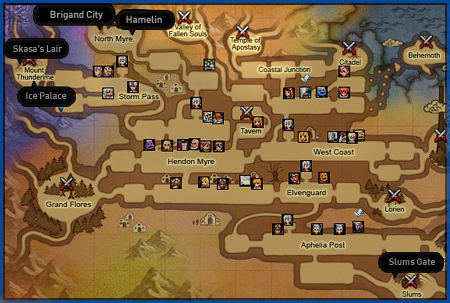 A new area called North Myre will be added. Once the pride of the Principality of Bel Myre, you can explore this new area by travelling due west of Grubeck.
5 new dungeons will be added to test your fighting prowess: Brigand City, Hamelin, Skasa's Lair, Ice Palace, and Slums Gate.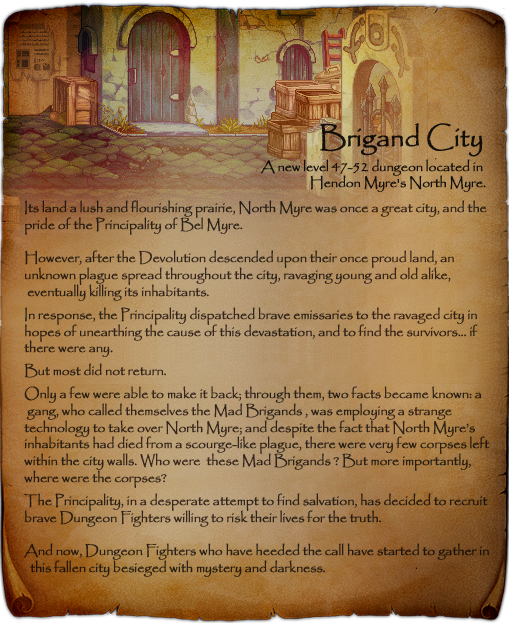 Deep within the Brigand City lies the secret lair of the Mad Bandits. Destroy this lair, and lay waste to the miscreants within.
Monsters that appear in the Brigand City take increased Shadow damage. Although not immune to Fire, damage from Fire is reduced.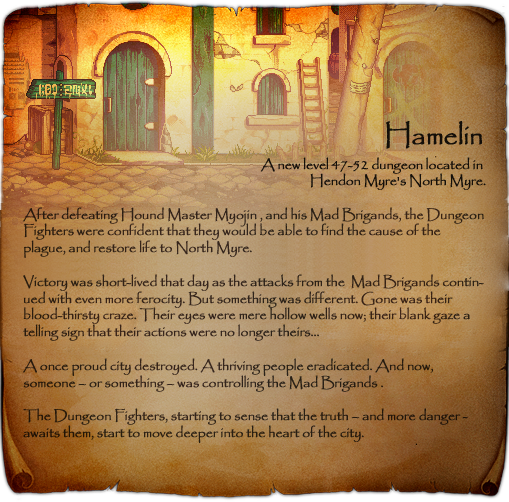 The Mad Piper, the nefarious boss, will escape to a different room each time he is knocked down. Don't give up the chase though, and make sure to chase him to the very end!
Oh how mischievous he is! When battling The Mad Piper, be weary of when your screen turns red. During this time, your attacks will hurt even your own party members!
Where are all these rats coming from?? There must be a nest! But where is it? I hear that rats like to make homes out of garbage cans...
Avoid the rats that roam this dungeon. They won't attack you first, but be careful. If you provoke them, they may bite and poison you!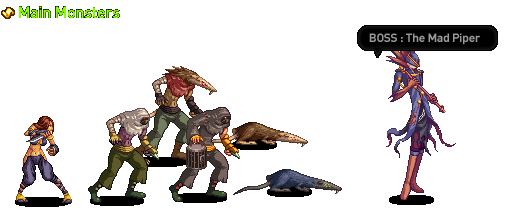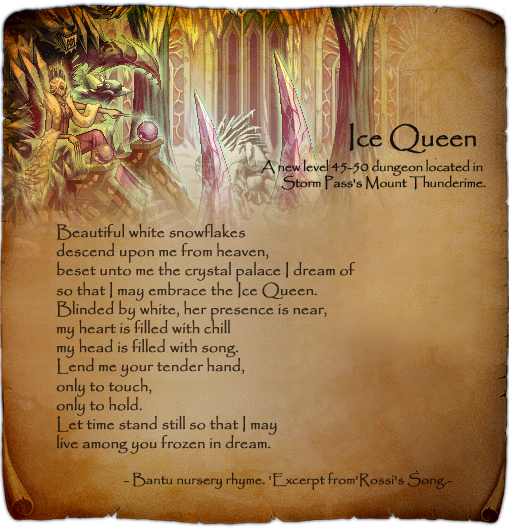 Rossi, who transformed into a conjuring witch through Skasa's magic, lives eternally within the palace walls that she built. Inside this frozen confine, you will encounter Rossi and her 5 Court Ladies.
Confined within her frozen tomb, and bound to her throne, Rossi controls and commands her Court Ladies, and attacks unsuspecting Dungeon Fighters through them.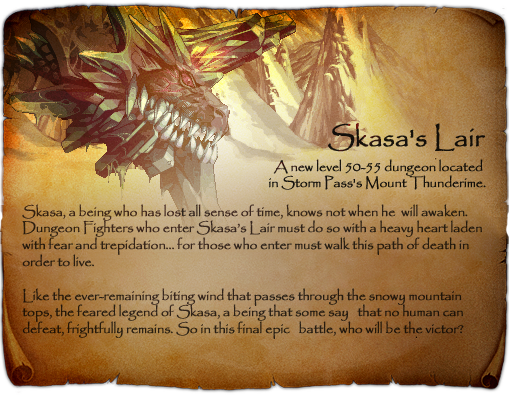 Skasa awaits you from atop the highest peak of the mountain. Your road to Skasa is a dangerous one. You must battle the hordes of monsters that guard Skasa first, before engaging in this final fight. Fight the hordes bravely, all the while avoiding Skasa's Snow Breath.
Beware of Skasa's Snow Breath and various melee attacks.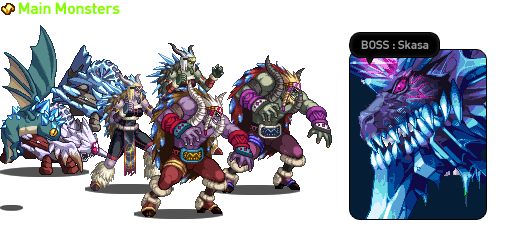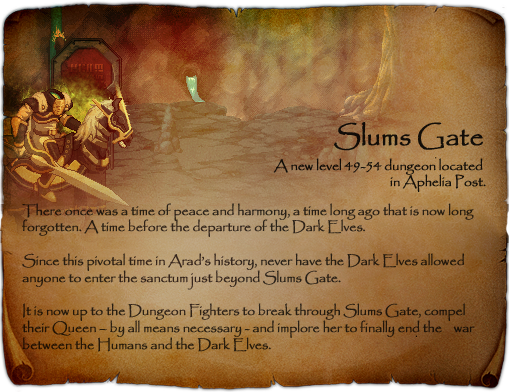 The Headless Knight must guard Slums Gate as an eternal penalty for having failed a mission when he was a Guard Captain defending the Dark Elf City.
Battle the Headless Knight's ephemeral spirit, along with the other phantasmal ghosts within Slums Gate, and release their tortured souls. Be weary of the drifting spirits that are sent by the Headless Knight; although they may not attack, they will become aggressive if you unnecessarily provoke them with violence.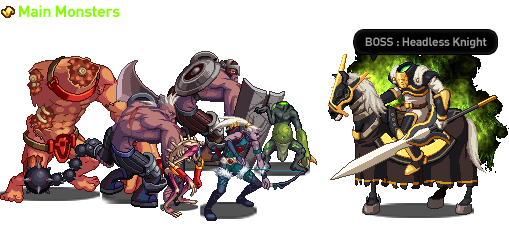 A whole new arsenal of weapons and equipment have been added to aid Dungeon Fighters on their perilous journey! Find out what some of these items are in this magazine!






Ignition Sword (Short Sword)
Fire Wave Sword Skill +1
Wave Manifestation Brand Skill +1
Attack with a 3% chance of casting Fire Explosion
Death Pole (Pole)
Full Swing Skill +1
Pole Mastery Skill +1
Saraiva (Boxing Gloves)
Power Fist Skill +1
Attack with a 2% chance of freezing an enemy
Deadly Thunder (Scythe)
Crucifix Wind Skill +1
Chaos Hammer Skill +1
Attack with a 3% chance of casting Thunderbolt
Hound Cracker (Revolver)
Fastest Gun Skill +1
Attack with a 2% chance of immobilizing an enemy






Enigma Invoker Set (Cloth)
Intelligence +30
Recovers 36 MP per minute
Fire Resistance +17
Spirit Sacrifice Skill +1
Hired Summon: Big Sis Louise! Skill +1
When equipped, generates an aura that increases the Max HP of all party members within a 300x150 px range
Respond to enemy attacks with a 2% chance of increasing your casting speed by 15% for 20 seconds
Quicksilver Sol Set (Leather)
HP MAX +250
Attack Speed +4%
Movement Speed +2%
Light Resistance +15
Hit Recovery +60
Physical Critical Hit +5%
Death by Revolver Skill +1
Damage against undead monsters increased by 20%
Alexi Spine Set (Light Armor)
Physical Defense +608
Strength +20
Vitality +20
Hit Recovery +100
Hit Rate +3%
Raging Dragon Slash Skill +1
Illusion Sword Dance Skill +1
Attack with a 3% chance of poisoning an enemy
Todpurs Set (Heavy Armor)
Attack Speed +2%
Shadow Resistance +20
Frenzy Skill +1
Outrage Break Skill +1
Perform melee attacks with a 2% chance of increasing your strength and vitality by 30 for 30 seconds
Respond to enemy attacks with a 2% chance of summoning a Level 5 Kazan
Total Protector : Rosenbacher Set (Plate)
MP MAX +154
Recover 30 MP per minute
Casting Speed +2%
Fountain of Life Skill +1
Heal Wind Skill +1