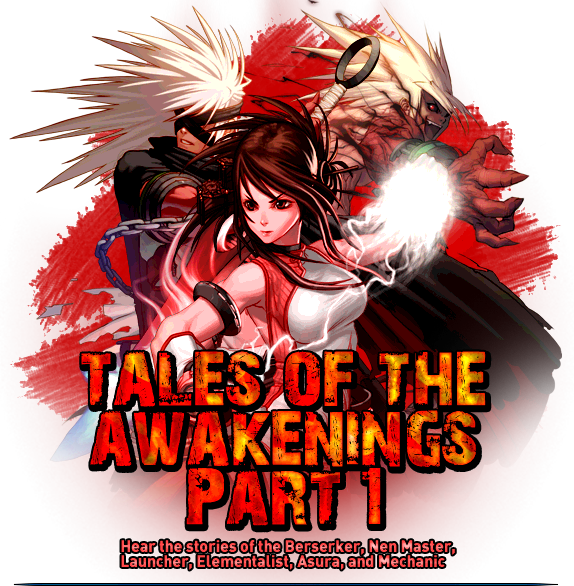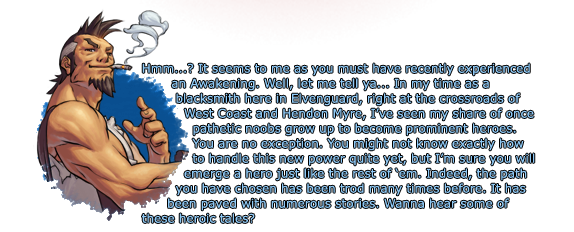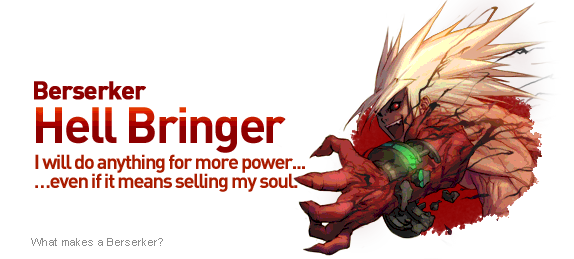 He is one who, without a second thought, slays the foe that stands before him. He does not deny, nor is ashamed of, his demon-possessed arm. He accepts the fact that the demon that dwells within him, at any moment, could destroy him. And he endures, even in the midst of the excruciating pain caused by Kazan Syndrome...
To those who choose the path of the Berserker, unimaginable strength is bestowed; however, embracing such a destiny comes with an acceptance that one's life will end painfully and tragically. Tombstones throughout the continent mark the final resting place of Berserkers who were all unparalleled in battle but met harrowing ends. One by one, they evaporated...like a withering flame into thin air. Even given vast demonic energy, the Berserker is still a prisoner to the limits of the human body. Though they appear to fear nothing, even they cannot divest themselves of the most basic and human of feelings. They still desire to live.
Awakening into a Hell Bringer may grant them even more power, but it quickens the strangling coils of mortality. The Hell Bringers are known for their endless pursuit of vitality. By absorbing the blood of other creatures, their drink in their vital power. However, the more power gained, the more intense their own candle of life burns, bringing them ever closer to their ill-fated deaths.
Until then, Hell Bringers will be of tremendous help to the Dungeon Fighters. If you find yourself alone in a party with a Hell Bringer, just pray that his blood and vigor will last until the end of the dungeon.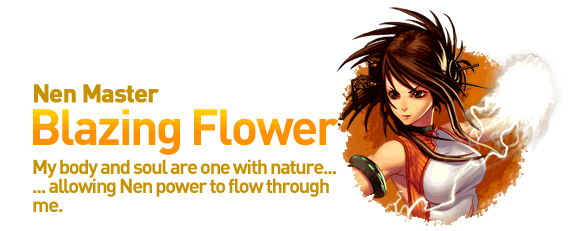 I am always in awe of those of you who feel the power of Nen within.
Being a Nen Master is nothing short of remarkable. But you yourself know that your true power has yet to be unleashed. If you allow Nen to flow freely through your body, surrendering your corporeal connection to the world of mankind, you may be able to Awaken into a Blazing Flower.
Let your Nen loose. Let it seep into your muscles and your mind. You may not quite understand this quite yet, but I know that one day you will achieve such power that with every step you take the pure petals of Nen shall alight from the ground and swirl around you.
This blossom will be your awakening as a Blazing Flower.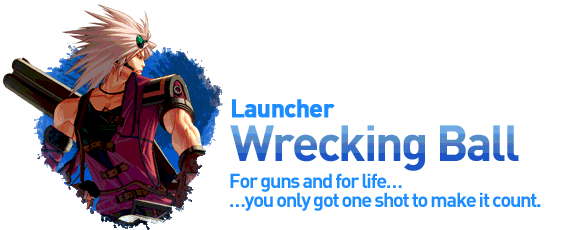 A blinding flash of light, then an ear-splitting roar…then instantaneous devastation that leaves nary a tree branch smoldering in the dirt. Is this the fury of an angry god? No, but something close, something mortal that can create divine devastation. It is a gift perhaps granted by the gods themselves, but a gift that they must now regret bequeathing unto man.
The Launcher who can declare "I shall see light and bring to it darkness"…that is a Launcher who has awakened into a Wrecking Ball. Wrecking Ball is a legendary title belonging to the one who annihilated the Dragon's army squadron during the Mechanical Revolution. It is the name given only to the most highly regarded Imperial Guard. It is the name of the one who serves, with power and authority, as a commander to the gods.

For generations, the mysterious beings from the world of Pandemonium known as mages have been dedicated not only to the study and practice of magic, but also to discovering the answer to why magic exists in the first place. They have been driven to learn why such dangerously infinite power has been placed in such foolish and finite beings.
You may think you know the answer, but I assure you that you do not. Mages have been seeking an answer for eternity, and could probably continue for an eternity more. However, legend has it that a chosen one will arrive and she will know, an Archmage who will come to not only understand the ultimate truth, but become that truth in physical form.
Throughout the ages, many have tried to claim the title of Archmage, only to be thrust into a life of endless bloodshed and betrayals before being forgotten altogether by history. Most have ceased entirely efforts to become Archmages. However, this legend has been given new life now that young mages have been spilling into Arad from Pandemonium in the hopes of reviving their withered world. Will one of these young mages become the Archmage of legend, or will all face the gruesome fate that befell their predecessors? History waits in breathless anticipation.

Let me read to you from the Book of Dark Visions, Chapter of Shadows. Within these lines you will know the epic of the Dark Knight.
"The earth quivers, yet my heart is filled with peace. Though my eyes have been cast into eternal darkness, I sense all things, seeing beyond the deception that the eyes can bring. Countless years of training in darkness has paved the way for a true kinship with the world of shadows.
I stand fast on the trembling earth, beneath the thick black skies. I reach stretch my senses out into my surroundings, and I feel the fear of those who surround me, their swords unsheathed and directed upon me. Beyond them I can sense my lost eyes. My eyes, embroidered into the dark boundless skies, have been there since the beginning. Yes, my precious Wave Eyes...keeping guardian watch over me. Their constant gaze will help me realize the power of waves."

During the days when Bakal ruled Empyrean, a group of Mechanics formed a secret squad dedicated to the downfall of the evil apostle. They were known collectively as the Seven Great Machinists of Empyrean, and collaborated on the creation of a machine capable of defeating Bakal. This secret project was codenamed Gaebolg.
Just as Gaebolg was to be activated, the Machinist Teneve betrayed his fellow Mechanics by sabotaging the project and allowing Bakal's army to strike. Those who weren't massacred took flight, most never to be seen again. Curio, a genius technician who survived the initial attack, used a dimensional shifting device to send the Gaebolg machine to another dimension, hoping to keep it away from Bakal and other ill-intentioned beings. Bakal eventually hunted down and killed Curio, but not before the wiley machinist was able to stash the blueprints for the dimensional shifter in a hiding place.
"These blueprints means the salvation of Empyrean. He who is able to re-create this device will be able to fulfill that for which the Seven Great Machinists sacrificed their lives. One day, these plans will come into the hands of one who is ready. It is then that a new Machinist will be born." – Curio